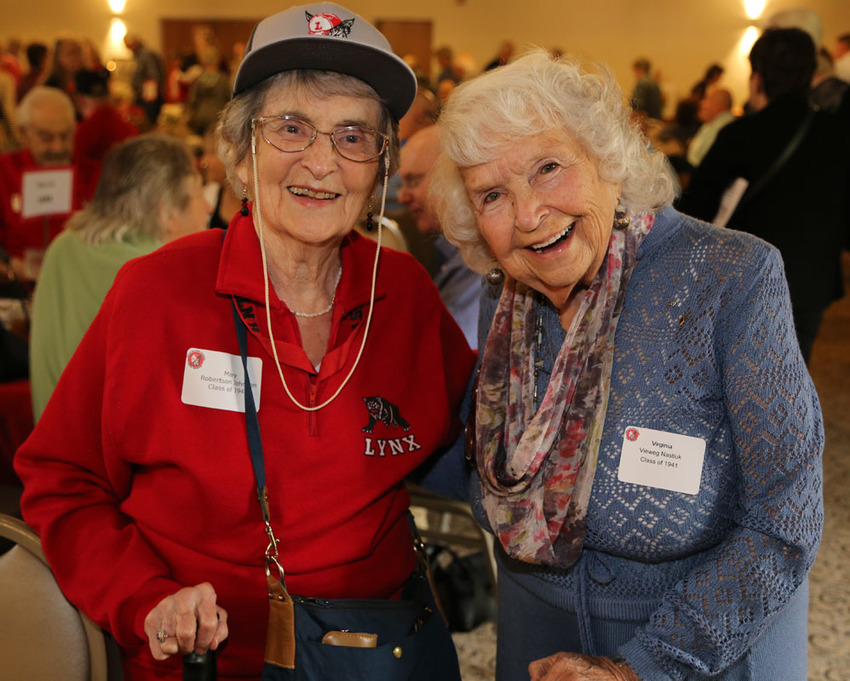 LLAA 2019 Annual Business Meeting
The annual Business Meeting of the Lincoln Lynx Alumni Association (LLAA) has been changed to: SATURDAY, OCTOBER 19, 2019. The meeting will be held at the University House (across from Lincoln High), 4400 Stone Way N., Seattle, starting at 12:30 pm. Two important agenda items to be voted on by active members at the meeting: 1. Election of LLAA President (2-year term)** 2. Vote on 2 proposed amendments to LLAA Articles of Incorporation (see info posting) **NOTE: Any member in good standing wishing to be considered for the office of President should send a brief letter explaining their purpose in seeking this position, along with a resume to our Nominating Committee Chair, James Raptis ('80), before September 19, 2019 - email: jcraptis@oaol.com
Abraham Lincoln Tribute
ABRAHAM LINCOLN TRIBUTE Michael Reagan, Class of 1965, has just completed this wonderful drawing of Abraham Lincoln that will be displayed prominently at Lincoln High School. Michael is a local artist who has received national recognition for his Fallen Heroes Project (see http://www.fallenheroesproject.org). Lincoln is the oldest Fallen Hero that Mike has drawn. He is donating this amazing representation to our school as a tribute to Bill Holm and Carl "Duke" Washington, who were both amazing artists and great teachers. As Mike says, "The intent is to show the new kids at Lincoln, that they will never really know, unless they pay attention, when something they learn is actually changing their lives." Due to Michael's generosity, we are offering signed lithograph prints of his artwork for sale with the proceeds to benefit our LLAA Scholarship Fund. There will be a very limited supply to purchase at the Alumni Open House on September 25 or you can request a print by pre-ordering and making payment to the LLAA. These prints will be signed by Michael and preserved in a tube. The pricing is as follows: $50 (if you pick-up the print) $50 plus $25 shipping and handling = $75 (if you wish to have it mailed) Please pay by check only. Make payable and send as follows: LLAA PO Box 31056 Seattle,WA 98103-1056 Make a note on the check that it is for Abe drawing and send mailing instructions, if applicable. Thank you, Jackie Bauer King ('67) jackie_king@comcast.net Wayne Porter ('65) waynedporter@comcast.net
Download Abe Lithograph Order Form
Welcome from the mighty, mighty Lynx!
Welcome to the official website of the Lincoln Lynx Alumni Association of Lincoln High School in Seattle, Washington. Even though the school closed in 1981, the alumni association is alive and active! The LLAA is a 501(c)3 non-profit organization and annually awards scholarships to a number of outstanding high school students who are lineal descendants of Lincoln graduates and staff. Please visit the Scholarship tab to see this year's recipients. The Lincoln Lynx Alumni Association has roots going back to 1910. Membership in the LLAA is open to any person who attended Lincoln as a student, staff, or faculty member. It promotes and preserves the history of the school and has events and programs to strengthen the bonds between its members and the community. The Totem II newspaper, published three times a year, strives to reconnect and encourages contact of members. To submit an article or news, click on "Contact Us". We hope you will join the association today and receive a complimentary recent issue of Totem II and the "We are back!" refrigerator magnet. We know you will enjoy being a member of the Lincoln family!!
Fall Totem II Is Available
The Fall Totem II is now available on-line. It has been mailed to all of our postal customers. The Totem II is available to LLAA members only. You can pay for your membership online. If you have received an email from us recently, click on Alumni Login and complete the Membership Renewal. For those of you that have not received an email from us click on the Membership tab and the How to Join the LLAA Online to complete the process. If you prefer to send in a check, download and print the PDF Printable Membership Application, fill it out, and send it with your check to the LLAA, PO Box 31056, Seattle, WA 98103 We look forward to having you as a member, joining many other Lynx in keeping the Lincoln spirit alive!
Download Membership Form
2019 Class Reunions
Planning is under way for 2019 reunions. See the Reunions page for more details. Please know that the Lynx pictured here is available to use as a backdrop for your event photos, too! Contact Verna Sorlie Rossevelt to schedule the pickup. Pictured here are members of the Class of '73 at a 45th Reunion gathering.